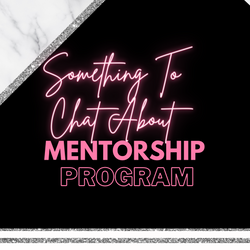 It is finally here, the highly requested Mentorship Program!
This mentorship program is like no other. Don't try and do this all by yourself. We are truly better together. 
What's included when you join this AMAZING $37 MONTHLY MENTORING PROGRAM.
Bi-Weekly Live Trainings (every 2nd and 4th Thursday)

Quarter Business Strategy Group Trainings with proven business techniques to grow your business 

Access to a private-members only Facebook group where you can ask other successful business entrepreneurs questions regarding your business

Access to my monthly training vault. Training released every month on the 15th. Training can include training material, videos, homework, and other resources. 
Mentorship Program
Absolutely amazing mentorship program that creates opportunities for entrepreneurs to brainstorm ways to enhance their business. Charity shares tools that you can implement right away. She motivates and inspires us to do measurable items every session. This is truly a supportive mentorship program that continues to exceed my expectations. If you are looking for authentic mentorship, I highly recommend that you join this program! For real😃!
Highly Recommend
I took the T-Shirt beginner class and I was able to absorb so much information today. The energy that Ms. Charity displayed was amazing. I'm super excited about my new journey taking the steps that you discussed today.
Excellent program
I rated your program a 10 because you give so much of yourself to those of us learning how to start a business. No matter what type of business you encourage each of your students to do their very best. You also cover all the right materials for us as students to progress forward in launching our businesses. Thank you Charity!
Helpful
Being in this mentorship is really helpful. I am glad and look forward to what's to come.