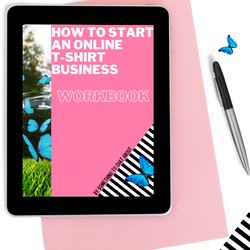 How To Start A T-shirt Business Workbook
Order Your Workbook Today!
Workbook Includes:
1. How To Start An Online T-shirt Business Checklist
2. 25 Elite Vendors and Supplier List
3. Business Planner
4. 90 Days of Content to Post
5. 12 Month Goal Scheduler
6. 365 Daily Motivational Calendar
7. The Daily Affirmation Ebook
8. The Big Book of Blessing
And Much More!!!!!
Please Download Your Workbook on a Computer, Laptop, or IPad
This is a Digital Download 
Pave the Way
Thank you for paving the way for me in my confusion and excitement of creating beautiful tees effectively and efficiently through the marketing channels.