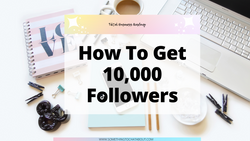 How To Get 10,000 Followers on Tiktok Workbook Plus
PLUS FREE PERSONALIZED TIKTOK AUDIT (add your TikTok name in the seller's note)
This workbook is a guide to gain up to 10,000 followers on Tiktok very quickly. With over 30 pages and full color content it will take you through everything from understanding Tiktok culture to marketing yourself and your account in ways that make you stand out among the rest. With the help of this workbook you will be able to get more followers without having to stress.

This workbook will show you effective strategies for getting more likes and comments as you grow your audience…it's not as easy as it seems!
Within these pages you will find out what kind of content works best, how to interact with your followers, and Free apps you can use to make your content look better.
Tasha shop
I hope really hope my followers go up from this app use this app