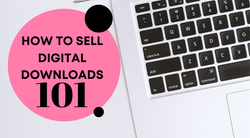 How To Sell Digital Downloads Online Course
This ONLINE COURSE is for anyone looking to sell digital products online. No matter what you're planning to create (e.g., ebooks, online courses, workbooks, software, or something else entirely), this training will show you how to create digital products that your audience will love. You'll also learn which platforms are the best for selling your product.
You'll learn how to create the layouts, plus how to add your own brand and integrate it into your products. You'll learn how to make the most popular type of digital download with tips on page layouts, images, and choosing the right paper. The course finishes by teaching you how to sell your works of art. We show you some techniques for selling digital downloads and explain some great platforms for distributing and selling online content.