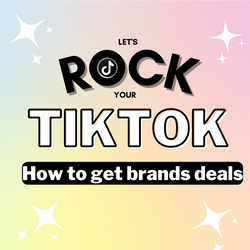 Rock Your TikTok 2.0 - How To Get Brand Deals
Want to learn How To Get Brand Deals on TikTok without any followers?
Join me on April 20th at 7:30pm cst in the Rock Your TikTok Zoom Room (60 mins).
You will learn my proven techniques and  
How to position yourself 
How to attract brands
How to make extra $1,000 every single month 
Only 20 spots available
You must check your email/spam folder after purchasing.