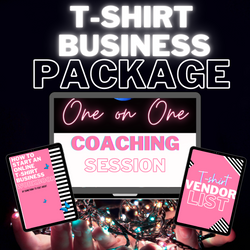 Start Your T-shirt Business PACKAGE
1. 1 on 1 Session  - 60 Mins (EMAIL WILL BE SENT AFTER PURCHASE)
2. 12 Step Checklist on How To Start
3. How To Start A T-shirt Business Step by Step Guide
4. 12 Month Goal Scheduler Template
5. Sell Your Merch Planner
6. Over 50 Vendor List
7. Daily Affirmation Workbook
8. The Big Book of Blessings
9. How To Legalize Your Business Guide
10. Invite To A Private FB Group
11. How To Start A T-shirt Business Course
*A BONUS VENDOR LIST*
Please Download Your Workbook on a Computer, Laptop, or IPad. Your workbook will be in a ZIP FILE
You will be allowed to reschedule your session only ONCE.
There will be no makeup sessions for any missed appointment, refunds, or exchanges.
My experience
She was so down to earth & sooo helpful. I've been doing shirts for awhile, but now i am able to make twice the profit that i have been making because of the vendors that she recommended!!
Awesome session
Charity was professional and energetic. We went over things I needed to get started and discussed how to overcome some challenges I was having. Overall I was extremely satisfied.
Great Info
Great information and it really helps me out a lot!
How To Start A T-shirt Business Workbook
Awesome workbook! Can't wait to get started. Thank you!
Very Helpful
Our meeting was amazing! Thank you so much.